Background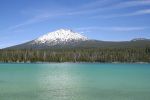 I am a Licensed Professional Counselor with the State of Oregon. I possess my Master's Degree from Oregon State University Cascades and am recognized by the American Counseling Association, the Association for Specialists in Group Work.I currently live in Bend, Oregon and spend most of my time working and playing in the Central Oregon area.

I grew up spending most of my free time outside. I give gratitude and thanks to my parents, who had me exploring nature from an extremely early age. For me, living and playing in the wilderness has proved critical to my spirit, character, and life development. Through nature, I learned to use my imagination, to appreciate the vastness of this world, and to dream big while gazing at the stars above me. Some of my past dreams have come true and I am still setting new and profound goals for my life, many of which are created when I give myself time to reflect and find inspiration in the amazing world around me.

I believe that many of life's lessons can be learned through spending time outside regardless of the exact setting. A walk through the neighborhood, a stroll along a river, sitting in a peaceful place, or more exciting pursuits can all be utilized to quiet our minds and ponder the successes and struggles we encounter each day. Nature also teaches us how to deal with things that are not in our control, allows us to have immediate feedback based upon our actions, and can serve as a tool towards greater personal empowerment. I believe that the use of nature and experiential activities can also lead to lasting change in levels of self esteem and self empowerment

My background and career track are very experiential in nature and have played significant roles in my professional development as the therapist I am today. Working with a spectrum of kids through adults in a wide range of settings has left me with the ability to use my gut intuition, tap into various elements of creativity, and to focus on the here and now with my clients. Professionally, I have spent the last 15 years leading, developing, and managing both clients and staff in dynamic outdoor settings. I have five years of experience running, developing, and managing high and low ropes course programs as well as a plethora of adventure programs for a private day camp in Western New York. I then transitioned into work as a field guide for a couple wilderness therapy programs. I attained the role of Master Instructor and have spent over 500 days in the field professionally. After this unique and powerful accomplishment I transitioned into working in a residential setting, where once again my work saw me leading adolescent populations into nature for up to five days at a time as well as focus on family and educational needs.